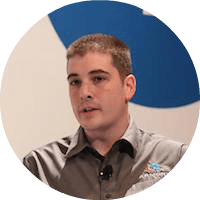 Position: Founder, Armory
Education: Graduate Degrees in Engineering Mechanics and Applied Mathematics
GitHub: @etotheipi
Alan Reiner was the former CTO and Founder of Armory. He is a cryptocurrency security pioneer and widely recognized as a world leading Bitcoin security expert and as a trusted source for security best practices. Under his leadership Armory innovated new Bitcoin security features and enterprise-grade functionality.
Reiner stepped down from Armory on February 4, 2016. Other developers will continue the project.
History
Alan spent seven years at John Hopkins Applied Physics Laboratory developing sophisticated real-time image and video processing algorithms for missile defense.
Education
He holds graduate degrees in engineering mechanics and applied mathematics with additional background in statistics, data mining and cryptography.
Videos