A Bitcoin ATM lets you buy bitcoin with cash. Similar to the way you insert a debit card into a traditional ATM and get cash, a Bitcoin ATM accepts cash and spits out bitcoins.
Some Bitcoin ATMs also work the opposite way: you can send bitcoins to the machine and receive cash.
Another tool many people like to buy is a Bitcoin debit card which enables people to load a debit card with funds via bitcoins. This is how you can spend the free bitcoins you get!
Why use a Bitcoin ATM to Buy Bitcoin?
Bitcoin ATMs offer a number of advantages over other methods of purchasing bitcoins. At most ATMs, no personal information is required.
All that's needed is a Bitcoin wallet or address and cash. Compare this to Bitcoin exchanges, which must comply with KYC and AML laws and require personal details and pictures of your ID.
Bitcoin ATMs also make the buying process easy for first-time buyers. Most people are familiar with cash and traditional ATMs. Inserting cash into a machine and getting bitcoins in a few seconds is a very simple process.
If you're lucky enough to have a Bitcoin ATM in your area, it can also be a very convenient way to buy.
Cons of Using a Bitcoin ATM to Buy Bitcoin
The average Bitcoin ATM charges a 5-10% fee per purchase. The large markup is simply the price buyers are willing to pay for an easy way to buy bitcoins privately.
Bitcoin ATM Map - How to Find a Local ATM
Finding Bitcoin ATM locations is easy, thanks to Coin ATM Radar, a Bitcoin ATM map. You can enter your location and get a list of ATMs in your area.
Once you find an ATM, click on the map marker icon for more details. You'll be able to find more information about the ATM's fees, hours, and location.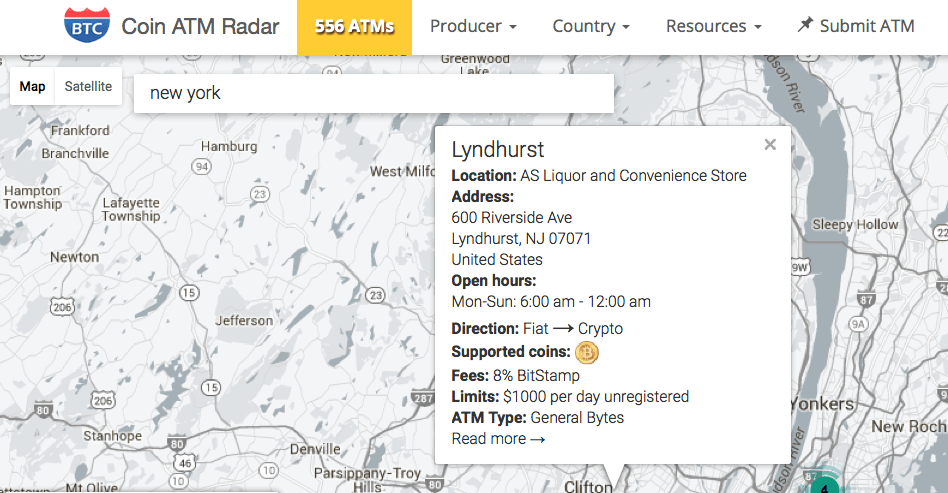 How to Buy Bitcoin at a Bitcoin ATM
Buying bitcoins from a Bitcoin ATM is really simple and takes under a minute. All that's needed is a Bitcoin address and cash. The video below shows the entire process. Note that there are many Bitcoin ATM manufacturers, so the steps may be different at your local ATM.